At Chandler Animal Clinic LLC in Chandler, OK, Dr. Natosha Provence and our team run a full-service animal clinic. The team can accommodate routine visits, vaccinations, spaying, neutering, urgent care, and emergency visits. Our goal is to keep your pets happy and healthy. Our wide variety of services allows us to meet each animal's needs.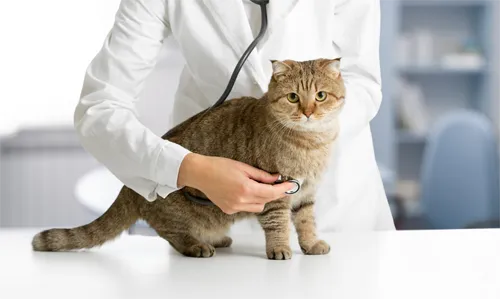 Domestic and Farm Animals
At our facility, our vets care for small and large domestic animals, small and large farm animals, and some pocket pets. The following animals are routinely cared for:
Ferrets
Sheep
Cats
Dogs
Guinea Pigs
Llamas
Rabbits
Cattle
Horses
Goats
Rats
Veterinary Services Offered
At Chandler Animal Clinic LLC, we focus on many different areas of health for your pets and farm animals. Preventative care goes a long way in avoiding various ailments and diseases in many animals and their respective breeds. We offer:
Complete examinations
X-rays
Ultrasounds
Urine testing
Parasite screening
Blood tests
Surgeries
Spaying and neutering
Vaccinations
Radiology
Microchipping
Dental care
Grooming
Boarding
We also provide a variety of preventative care methods so that you can keep your pet healthy. We offer:
Flea and tick prevention medicines
Deworming medicine
Heartworm prevention methods
Prescription medication for animals
Prescription dog and cat food
Urgent Care and Emergency Services
If your pet or farm animal needs to see our vet right away but is not experiencing a life-threatening condition, we can do our best to squeeze you in between appointments. Sometimes there are cancelations. The wait times will vary, but we want you to know we support you in making your pet's medical needs a priority.
As a full-service animal clinic, we keep skillfully trained personnel on-site six days a week to address urgent and emergency matters. In many cases, emergency teams consist of one or more veterinarians and several vet technicians when dealing with emergency cases. Emergency examples include rough impacts from falls or being hit by a vehicle, wounds from an object, ingestion of toxic substances, or injuries received from an animal fight or attack.
We accept emergency matters anytime we are open. If your pet or farm animal is undergoing a life-threatening emergency, please call or come in right away. If possible, call first so we can try to assist you over the phone. Once you've arrived, we can better estimate how long it will be before our veterinarian can help you.
Contact Chandler Animal Clinic LLC for an Appointment
No matter what your pet needs, we can help. At Chandler Animal Clinic LLC in Chandler, OK, your pet's health is our priority. To learn more about our services or to schedule an appointment, call us today.